Decontamination
Update at: 11/7/11
Report of Decontamination activities ①
Fukushima International Media Village is delivering reports on decontamination operations by using the functional water which can eliminate and decompose the radioactive materials and keeping our attention on the decontamination experiments since last October,2011.
Therefore, we would like to introduce more about the website " Decontamination Activities, Fukushima 3.11" . The website will continue to provide their decontamination activities in hopes that support for disaster recovery.

■ October 14th, 2011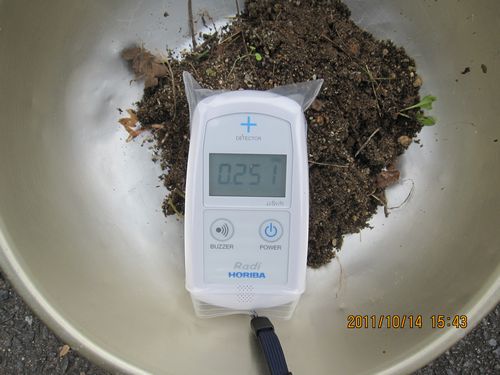 Measured radioactivity in soil samples collected from the ground of Iwaki headquarter and functional water soaked into the soil then kept it for one night.
■ October 27th, 2011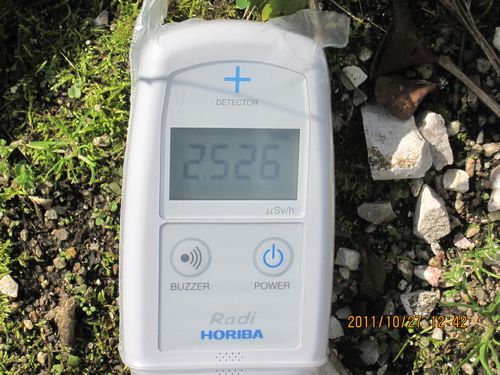 We discovered that how is the dose rate changing through this experiment. Also, we measured radiation dose rate in the air and garden of private house in Kawamaemachi shimookeuri azaogi district where located in about 30 km from the west of Iwaki city.
The people have told that Kawamaemachi shimookeuri azogi district has a high levels of radiation in Iwaki city and when measured:
Radiation dose rate of the ground with stones which absorb the radiation was 2.526 microsieverts , Radiation dose rate under gutter was 9.999 microsieverts.。
■ November 4th, 2011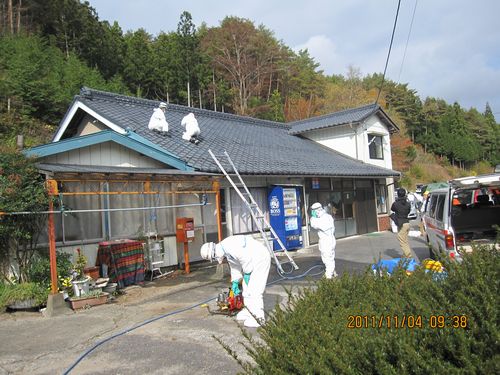 Volunteers group " Fukushima Daiichi Nuclear Power Plant –Yushi (Brave heart)" came from Hiroshima city for decontamination work in Kawamaemachi shimookeuri azogi district which is hotspot. Also, the media companies got the news coverage on that day.

The result of decontamination experiment discovered that the radiation dose rate under gutter was decreased 50 percent after sprayed the functional water which was 20 microsievierts before.

■ November 5th , 2011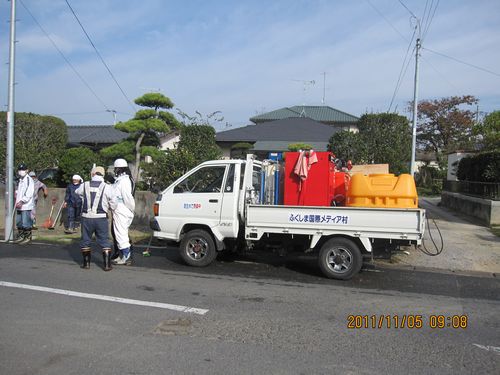 Decontamination team operated the decontamination activities with local people who are volunteers at the park and roads in 3 areas of Uchigoumiyama town, Iwaki city which is located Iwaki headquarter, FIMV.
以降の記事はこちらのページへ→「除染活動の記録②」

Related: