Project
Update at: 1/25/12
Live in peace of mind
Fukushima International Media Village is delivering reports on the decontamination experiments of "Decontamination Activity, Fukushima 3.11." This experiment operates by using the functional water which can reduce the radioactive materials since the last Octorber, 2011.

The decontamination operation by using the functional water
What are the differences between functional and ordinary water?
Why, radioactive materials efficient at reducing by this water?
Decontamination team operates their clean up activities while clarifying research problems.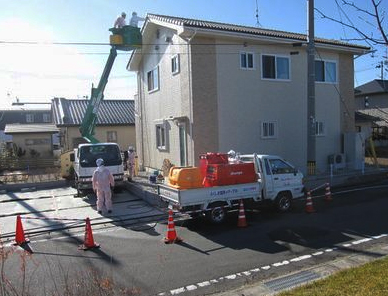 The decontamination team started to measure the radiation dose rate in air and top soil from the ground of the Iwaki headquarter of FIMV. Also, the decontamination operation carried out large scale in local resident` s households in Kawamaemachi and public facilities as a park, a big road of Iwaki and Minami soma city.
In fact, radioactive cesium can not eliminate just using high-pressure water cleaner for clean up radioactive materials. However, a decontamination team has a hope that radioactive materials can remove and decompose by using the functional water and they are working hard to have a successful result of experiments each day.
"Safety life in "My Hometown"

A magnitude -9.0 earthquake (The Great Tohoku Earthquake) occurred and resulting tsunami damaged the Nuclear Power Plant system at Fukushima. It
People have lived in an abundant life but now they have no choice and live in temporary houses. We will support to find an effectiveness of decontamination operation in order to local residents return to their former lives as soon as possible.
Please, click here for detail:


Related: