Decontamination
Update at: 2/17/12
Decontamination experiment on trees
Febraury 14, A team operated the decontamination experience on trees at Tomioka town Hall, Fukushima prefecture.
● Tomioka town Hall is located in evacuation zone about 10 km from Fukushima Daiichii Nuclear Power Plant.
Why is it difficult to decontaminate the trees?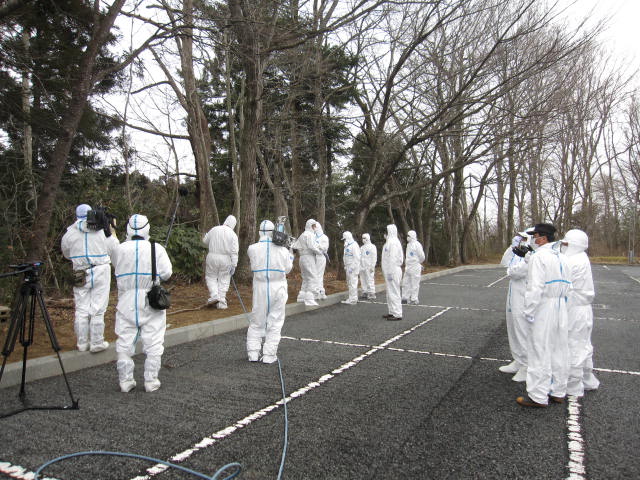 Because, the target is the standing trees in this decontamination experiment.
A team sprayed the functional water to the trees by using high pressure water cleaner and it wash only the surface dirt off and can be eliminated for temporary but that tainted water goes to the ground. Therefore, the team has to decontaminate the radioactive materials which accumulated in certain places at same time. Otherwise, it will become a hot spot.
Also, the radioactive materials spread widely by the wind blown same as the pollen dust. Prevent problems form arising , the decontamination should operate to all of the regions for achieve the wished decontamination result. However, this would take them a lot of time and money for that. The operation tested the radioactive materials amount that how much can be eliminate.
Also, there are many people struggling with internal exposure.
Many people still are operating at the evacuation zone for Fukushima Restoration.
We will let you know when we find the best method of decontamination for internal exposure from the body.

Related: